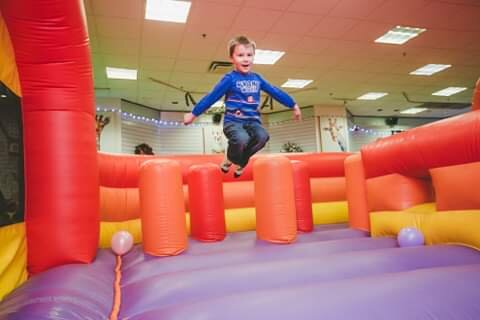 Birthday Party Rental
Our Birthday Party

$200.00 for up to 15 kids ( $5.99 Any Additional Child). The Large Party room is about 1000 sq ft, with ample Tables and Chairs:) A private obstacle course and a Bounce house combo, plus has a castle back drop!! 3 hrs total Time, 30 mins to set up, 2 hrs for the party, 30 mins at the end to gather items. After your 2hr time Slot is over, you don't have to end the party, we just ask, you and your guest move to the front of the facility, so we may clean and get ready for our next event:) That way, you could still enjoy their special day:) We are a 1 - 12 year old center, so if older children come, they may use the private inflatable in the party room until the 2 hrs is over, but cannot use the inflatables in the front, but we do have over 3000 free arcade style games that they may use, as well as Racing Games and Other paid arcade games:) You're more then welcome to bring your own food and drinks at no additional cost!! We just ask for safety, nothing that has to plug in or anything that posses a danger to the children:) During the party, your guest have full run of the entire facility!!! ABSOLUTELY NO GLITTER OR CONFETTI OF ANY KIND!!






$200.00 + Tax (15 Kids, 5.99 any additional)
2 hour slot(3 hrs total, 30 mins prior to set up, 30 mins to take down) (beginning at time selected on Booking), large private party room.
Large Obstacle Course.
Access to the whole facility!!!